ik – Learning Program:
Challenge:
Education in Angola has been positioning itself vis-à-vis major development themes of the Angolan society, seeking to act both on the levels of potential efficiency of production, and on the resolution of problems associated with the sectors of public health and the environment. It is in this context that new technologies are designed, as a key resource starting in the early years of training of Angolan students.
Context:
The Ministry of Education (MED), through the program meu KAMBA launched in 2014 by Minister Pinda Simão, has sought to promote access to new technologies starting in primary education, establishing teacher training as an organization axis of this action. Through the National Institute for Innovation and Development of Education and the Office of Studies, Planning and Statistics, the Ministry of Education has sought to participate actively in defining the main objectives of a training that would frame technologies in progressively more challenging learning environments.
Meu Kamba project and ik-Learning training
jp.ik's professional services, through its training department ik-Learning, has so far held 11 training sessions, a deliberate and integrated strategy of teacher preparation.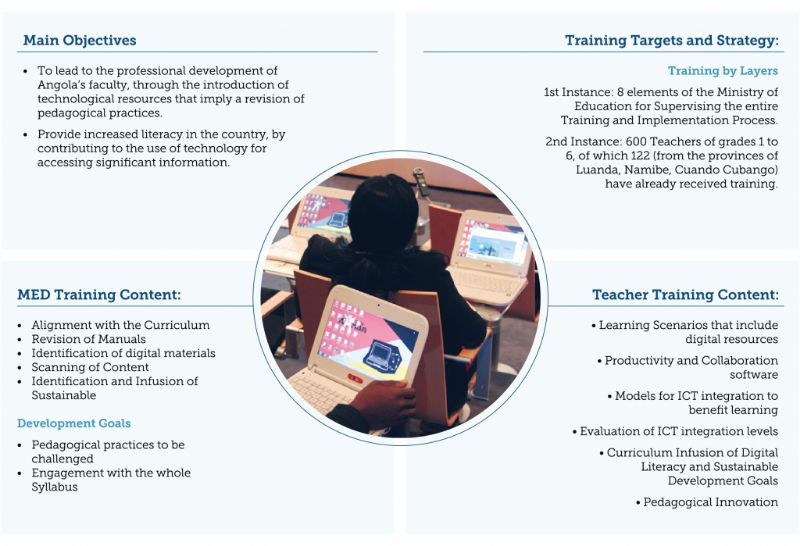 Results achieved with the MED members:
Strong critical perspective on existing teaching materials and those to be produced. Opening of the new pedagogical models.
Results achieved with the teachers:
By the end of the training… Development of lesson plans using the new digital tools. New methodologies and practices to stimulate learning. In the Schools… Implementation of lessons using digital environments; Knowledge of a variety of resources for strengthening Portuguese and Mathematics; Training other teachers; Educational Community's motivation and ability to influence regarding assertive digital use.
Testimonies of participants in the ik-Learning training:
"The highlight of this training was seen during the trainees' demonstration, for this was the moment that enabled the development of the learning spaces, in various fields, mainly in the relational and technological fields." "The topics that were covered were all relevant; from the pedagogical training and the technical part, to the presentation of themes of the groups created after or during the training. In short: it was positive, wholesome and held in a harmonious environment. "