Technology is transforming and our lives, (re)shaping the way we communicate, relate, work and learn. Our experience taught us how important is to design a successful, meaningful and complete education ecosystem to respond to the demands of a world in transformation.
Whilst the relevance of the integration of technology in all spheres of our lives is undeniable, educators, researchers, governments and parents realized today's learners are no longer the people our educational system was designed to teach. The common ground states technology especially designed for education has to be meaningful integrated in the learning experience towards a more immersive and rewarding experience for both, students and teachers.
On one hand, we have to prepare our students to a job marketing constant mutation, which demands a professional profile highly equipped with the 21st century skills.
On the other hand, teachers face a series of challenges when talking about bringing technology into the classroom. Some of these challenges levitate in a more behavioral context, such as the level of students' distraction and dispersion. Others gain form in a more technical domain, such as unsecure and fragile storage solutions that allow devices to be stolen and have to be replaced in a short span of time, as well as issues of inconsistent charging and synchronizing of devices.
JP Charge – Effective Storage and Charging Solution
JP CHARGE is a versatile, user-friendly and ultra-safe power management solution to store and charge up to 50 devices simultaneously.
This charging unit was designed to assist teachers with the demanding task of keeping the classroom devices secured while charging because the fact is managing a large set of devices can be a challenging task.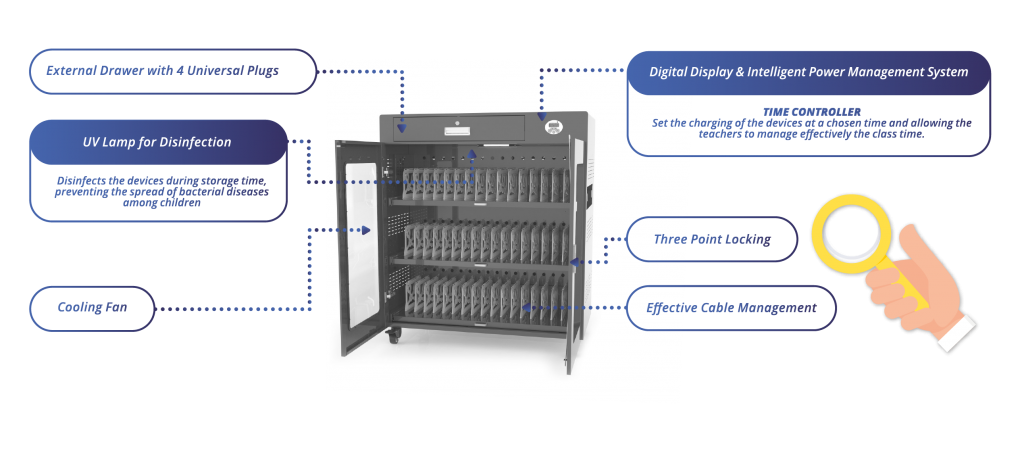 All jp.ik's ICT solutions for education are designed thinking of the entire education ecosystem functionality to ensure compatibility among all the devices. This being said, JP Charge was designed to guarantee compatibility with our Product Portfolio.
Features individual and universal plugs with fast charge while enabling an effective cable management by keeping the AC adaptors organized and easy to access.