Antoine de Saint-Exupéry, The Little Prince
Some of us are smoothly returning to the old routines: kindergartens are reopening, some offices too… or maybe we are just finally coping with our daily tasks at home. So, this week we would like to propose you to play with your kids with a very concrete purpose: make them become more autonomous with their daily schedule or help them learn the basics of regular routines in an engaging way.
The "Kids ToDo List" is a picture card scheduler app that will enable you to do it! The app lets you plan your daily activities in line, stablish a fixed time for each, and add small images to them. This is not only fun for kids but also a strategy that helps them follow their schedule without any help.
This app also allows you to choose your own images and associate them with the task; your own voice may also be added, and you will get a truly personalised calendar.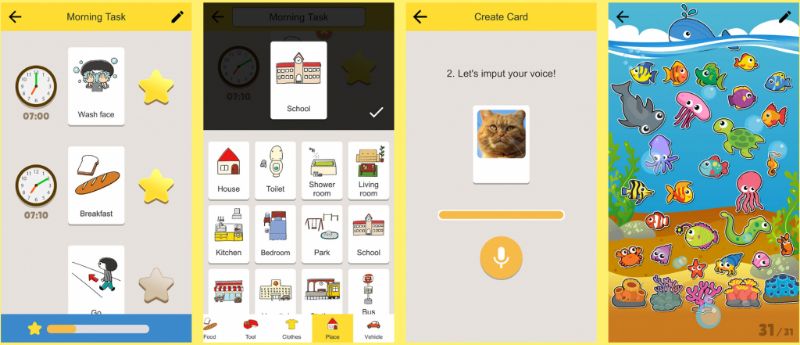 The "Kids ToDo List" has been developed by LITALICO, a company that supports infant classrooms and disabled children with the vision of "Creating a society without disabilities". This company offers a collection of educational resources that foster the sense of agency through games and other playful tasks. In particular, the "Kids ToDO List" is surely engaging for pre-schoolers, but it can also be of relevant help in special educational needs at any age, in cases of Asperger disorder, autism, down syndrome or other. It facilitates communication on regular tasks while helping perform simple routines step-by-step.
You have one hundred cards at your disposal and a bunch of languages supported: Dutch, English, French, German, Japanese, Korean, Mandarin, Portuguese, Russian, or Spanish. For each task assigned, a time limit may be settled and for each successful conclusion you are given a "fish badge". Children may collect several fish species to create a colourful ocean habitat.
Through this app you may structure a day from the moment your kids wake up until the moment they go to sleep, choosing what to wear, what to eat, the time for a nap and for so many action verbs like: look, speak, open and close doors, sit, run, walk, draw, study, cook, swim, read and others. To select a new card for the new step of your main task, you just have to press the button for some seconds and there you go: a new card is added to your schedule.
We suggest you just choose the way you wish to play. Time management will then be quite easier! If you have more time during the afternoon you may engage your kids preparing the schedule for the next morning. What do you usually do? In which order? For your kids' favourite morning activities – like breakfast, for example – go for a photo hunt and take pictures of the food they like the most: milk, yogurts, juices, cheese, jam, peanut butter, bread, cookies… Then record your kids' voice naming each type of food. Is it the time to dress often difficult? And if you prepare what to wear on the day before, after playing a game of guessing colours and patterns? Maybe your child would like to dress like a zebra or the tiger she/he just saw and read about on the story you have shared. So, just go find white and black outfits with stripes or the cool yellow ones with brown patterns. Can you convince your child to dress up? If not, we are sure your child will love to dress her/his favourite and biggest puff animal and laugh with the result!
Don't forget to take that picture and put it on the app. Yes, we are still talking about the "Kids ToDo List"!…
If your kid is more into discovery and likes gamification, use and abuse of the badges she/he can earn. Do you really know the name of all those creatures? Anytime you finish the group of steps that compose a task on your scheduler, and check the corresponding star box, you receive an ocean species. Do your kid and even you know that one? That shape, that colour, those patterns, that sharp look and size? If not, why don't you join brothers and sisters and google it? Did you find it? Keep a diary of those sea animals on your physical or digital notes, letting your kids get familiarised with the letters that compose the name of that fish. And if they are starting to read maybe it's time to play the "go fish game" and collect the corresponding letters from flashcards or magnetic letters.
The "Kids ToDo List" is certainly an autonomy booster, but it is also a great stimulus to play and understand that independency is a consequence of a great sense of belonging. And that can be learned through shared practices with our dearest ones.
The Little Prince knew it perfectly: in fact, the more time we invest with our roses, the more important they really become to us, to themselves and to the others.
Contribution by:
Ana Mouta, Ana Paulino and Inês Sá Couto are Pedagogy Specialists at jp.ik.