Being a teacher has never been in my plans. And I had plans! All designed and architected to be achieved just like I initially idealized! A slight correction here, a little further deviation later, but the decisions would be made, so I could build my future as faithful as possible to my tastes and wishes, to be faithful to what I was and always would be. Everything extremely solid and perfectly plausible and expected for a 17-year-old young woman, the age at which I initiated my teaching degree on Physics and Chemistry. Of course, at this point the confusion is installed. So, the teaching is not in the plans and the teaching degree is? Yes, it is still all according to programmed, whatever that may be.
My goal was to keep me connected to the scientific area and having Physics, Chemistry and Mathematics as my moving forward engine. Education came as plus. A plus that was needed to fulfil my plans as solid and robust as I have already explained to you.
At the end of my degree, everything still perfectly taken care of and I continue my research in the field of Organic Chemistry. And two years later, Teaching comes back and now it will not be an extra. Now Teaching is the centre and I begin my career as a Physics and Chemistry teacher. But what about my plans? I reconsider and realize that I can consider this incursion into Teaching as "a slight correction" or as "a little detour".
For twelve years, I have remained in this detour that has become the most genuine fulfilment of my initial plans. I thought that the plans should be kept virtually unchanged and that once I had decided to fulfil a certain goal, I should never again depart from it. What I did not know was that the goal was much wider and wider than I had imagined. My interest in science always made perfect sense, but this taste could not have served as a beacon for the definition of my plans. It was just a way. It was important to have a way forward, but it was also important to realize that Teaching was the sincerest way of fulfilling so many dimensions that could have fit in the initial plans, but that I did not know to recognize. In Teaching I could find a multitude of personal and professional ways of accomplishment.
I have an urgency to fulfil myself in different and new areas, because the students demand it and because with this requirement, I realized that I am much more than I thought I would ever be. And, I feel very happy within these new experiencies!I ventured myself into an almost-completed PhD, and I also ventured myself into marketing, show production, solidarity, and volunteering areas.
I am an author and reviewer of school textbooks and I feel the novelty and joy of the challenge always close by.
Thinking about paper and addressing digital natives? Yes.
It is the wonderful challenge of new technologies, which are no longer new and are the extension of our students and are also our extension.
A good paper book will never cease to be, because we can add digital support to its existence. It will only make it even better and more relevant because it has become the genesis of a new world. And in this sense, Teaching become fulfilled for me, as being the genesis of a new world that was not in my plans. Apparently!
And it is beyond the obvious and the immediate definitions of plans that we must seek.
To have a first plan is to have a safe harbor, to be receptive and to be available to embrace everything that can arise from small deviations; is to have a sea of ​​possibilities and amazing experiences. Preparation is key to adapting to the new markets and new demands that emerge at an ever more breath-taking pace.
And the preparation lies in a consistent formation that allows us all the little detours through which our very solid plans may surprise us.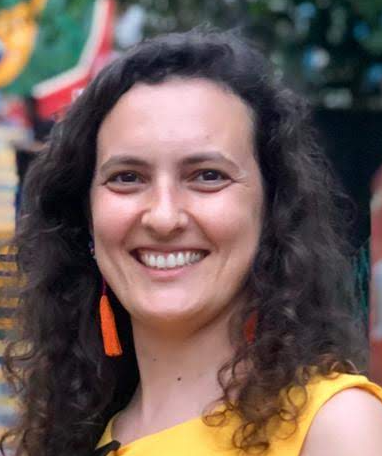 Ana Sofia Vila-Chã is a Teacher of Physics and Chemistry at the Dom Diogo de Sousa School, in Braga for more than a decade.
She has a degree in Physics and Chemistry from the University of Minho and is attending the last year of the PhD in Sciences.
With an executive degree in Marketing Management from Católica Porto Business School, she is a trainer certified by the Scientific-Pedagogical Council of Continuing Education and an author and pedagogical reviewer of school projects.
Coordinator of Secondary Education of the College for six years, currently assumes the advice of the Pedagogical Direction.
She develops projects in the field of cultural promotion through the production of cultural events and the promotion of Human Rights within a diversity of social projects.
She founded the Solidarity and Volunteer Group of the Dom Diogo de Sousa School and she volunteers in collaboration with ACREDITAR in the pediatric oncology ward of the Hospital São João.