""The art of programming consists of organising and mastering complexity. "
Edsger W. Dijkstra
Last week we have invited you to have fun organising and managing your daily tasks with the Kids ToDo List app. This week, our proposal targets creative and critical thinking, while promoting collaborative work and specific digital skills!
Can you guess what will this tip be about?! (drum roll) Hum… if you thought about something related to coding and programming, congratulations, you got it right! We will invite you to explore Scratch!
Scratch is a coding and programming tool, created by the MIT (Massachusetts Institute of Technology), and used in formal and non-formal learning environments worldwide, to support children and youth (between 8 and 16 years old) taking their first steps in creating digital and interactive stories, games, and animations, in a funny and easy way.
With an intuitive graphic interface and using an elementary programming language, Scratch allows users to develop their own projects, creating and programming diverse actions and scenes by "simply" connecting and embedding different coding blocks, as if they were Legos.
It turns learning coding and programming into a smooth and engaging process and previous knowledge on coding and programming is effectively not required. Even if you are coding for the first time, you will certainly be able to use the analytical and organisational skills needed to perform the task, and recognise huge similarities between coding and the natural processes underlying planning and doing your daily life activities.
Scratch is available as an online platform and as a free downloadable application for Windows, Mac OS X, Ubuntu, IOS and Android, translated in more than 40 languages. A specific and even easier version of it, known as ScratchJr (here), is also available for the little ones (from 5 to 7 years old) who might be curious enough to try it out. You may decide which version better fits your needs, even though we will guide you through the online Scratch platform in the following steps.
And now, are you ready to start discovering how can Scratch's coding blocks help you telling stories?
Let's try it out?! This week we would like to challenge you and your home teammates to create an animated and interactive story about how you lived last weeks, the family discoveries you've done together, the most joyful or magic experiences you've shared or your desired to do list for the near future, using Scratch.
Start sketching some ideas on how you would like to approach this project, using some papers and colourful pens, and then go to the Scracth website (here), and sign up.


Et voilà ! As soon as you have created your account and signed in, you will be able to click on the "Create" option displayed in the top bar, as shown below.


Any time you do it, the following background will appear. It also appears a tutorial alongside with tips to move on programming your own projects.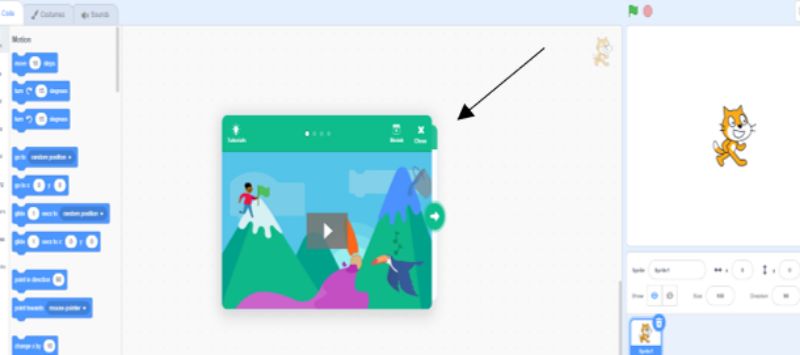 As shown in the following image, the Scratch's programming panel – where you will find all the needed tools and resources to work on your project – will then be displayed. So, you are ready to start building blocks, individually or collaboratively, to create your own interactive story.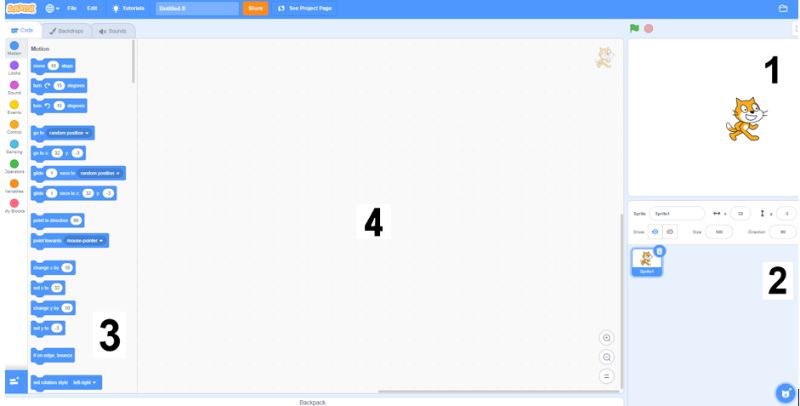 To start your story, first click in the number 2 area and choose the characters that will be part of your cast. Do you want family characters in the story, or will you want to embody all of them?! In Scratch everything is possible!
Do you want to put a cat in your story? Or do you prefer a ballerina? Are you thinking of a dragon, perhaps? Do not decide too fast, let your imagination run wild with the available characters and the ones you would like to see in your creation. And now that you have your characters you are going to create their script. Prepared? It is time to explore section number 3, where you can define the actions each character can perform (for example, walking forward, backward, saying hello, saying goodbye, reproducing sounds, spinning…). And then, drag or breathe the block corresponding to the same action for section 4, and it is show time! The result of your story may be found in section 1.
If you make the story even more interactive – yes, because this is possible – you can customise the images (embedded), sounds and external displays (in the area number 3, scenarios and buttons).
Did you enjoy storytelling with Scratch?
Have you noticed there is a lot more you can explore using this tool? As explaining the water cycle, creating a game to practice recycling, or simply creating an animated and digital birthday card?
Free your imagination and start now!
Have fun!
Contribution by:
Ana Mouta, Ana Paulino and Inês Sá Couto are Pedagogy Specialists at jp.ik.