EMPOWERING THE LEADERS OF TOMORROW THROUGH TECHNOLOGY!
We have been leading a new and disruptive path for education and 2018 has been a very special year because we celebrate ten years of this amazing journey.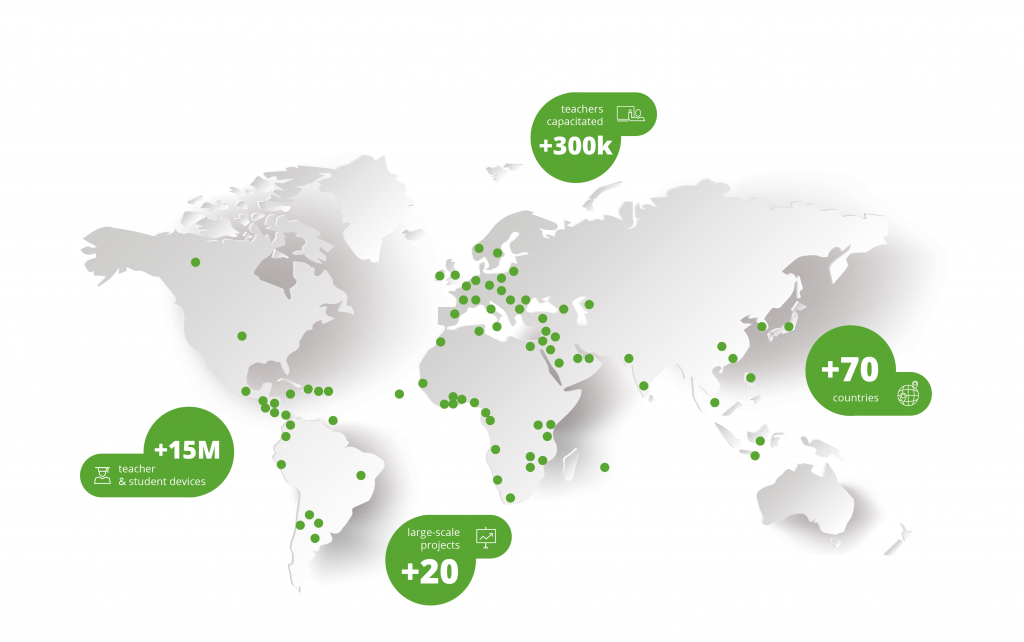 Students succeed when they have the opportunity to engage with interactive learning and tools that spark imagination, creativity and critical thinking!
The learning experience must be positive, simple, guarantying accessibility and interactivity. Learners should feel involved in the learning experience and teachers should feel confident and empowered.
We are a GLOCAL COMPANY
Global Understanding, Local Intervention
We believe in the power of our education projects. We believe technology enhances the access and transfer of Knowledge and through education we can actively contribute to a sustainable world.
Guided by the purpose of contributing for more sustainable and self-sufficient communities, we developed an exclusive and disruptive approach for education.
The Inspiring Knowledge Ecosystem (ikE) represents our multidisciplinary and integrated approach, striving to fulfil each project and each partner specific needs and requirements from early conception to the final moment of the implementation process.
With this goal in mind, our Inspiring Knowledge Ecosystem highlights an alliance among Technology, Pedagogy and Engineering to empower the use of technology in education.
Our Inspiring Knowledge Ecosystem stands out as the cornerstone of an impacting long term Education Project.
Quality school infrastructures catalyze the development of a nation
Our experience in the field and our research taught us school infrastructures have a major impact on teacher and student outcomes.
In some regions of the planet, there is a need of building school infrastructures of quality. Moreover, it is common that schools still lack spaces specially designed to the 21st century learning environment, such as, laboratories and multipurpose learning spaces designed to engage students in the learning experience.
Aiming to respond to this infrastructural gap, jp.ik engineering team developed the Popup School that is a multipurpose solution with a simple and fast implementation process designed as a sustainable environment for community development in need of a quality infrastructure.
Read the article about the Popup School published in INSPIRE Magazine and learn more!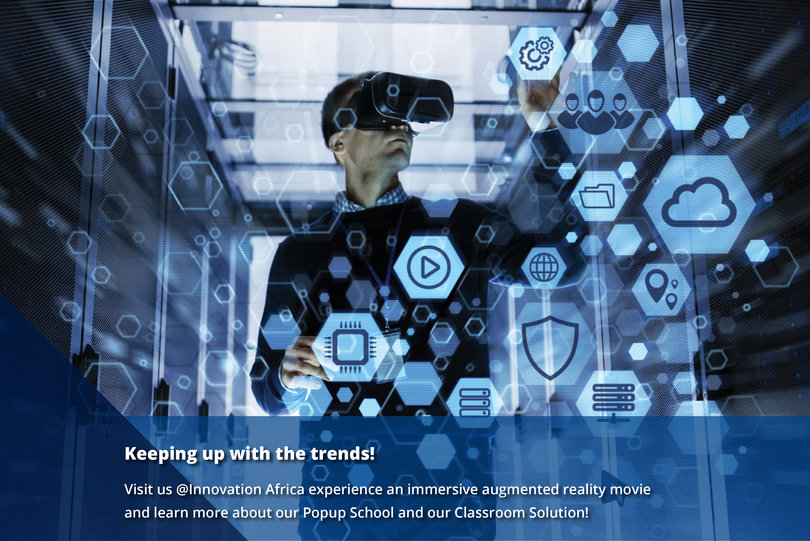 Empowering global access to an inclusive education
Our GLOCAL company mind-set drive us to implement ICT-based education projects with the big picture in the horizon – global understanding and local intervention. In order to do so, our Inspiring Knowledge Ecosystem (ikE) is essential from early conception to the end moment of the implementation process.
Our high-end technology especially designed for education are a solid booster of the S.T.E.A.M. approach, enhancing innovative, unique and collaborative learning experiences that empower students, preparing them to the challenges of the modern labor market and to professions that do not even exist yet.
Designing solutions that align with the S.T.E.A.M. approach is fundamental to respond to the challenges and needs of our future.
In this context, at Innovation Africa we are showcasing four models of our 2018 portfolio:
MOVE S101Â is the ideal tablet for students who are in a constant quest for knowledge. It was designed thinking of the young and curious explorers.
Learn more about MOVE S101!
TURN T302r is a 360º convertible laptop with a high-resolution touch screen designed to offer the best interactive learning experience.
Learn more about TURN T302r!
SLIDE T301Â is a 2 in 1 device that can easily be carried everywhere, becoming a flexible learning tool ready for the daily learning challenges.
Learn more about SLIDE T301!
TRIGONO v401Â has an elegant and light design and a long battery life, providing a great user experience and performance.
Learn more about TRIGONO v401!
Well-educated people are usually more active citizens and qualified workers, more capable to explore and create effective opportunities to improve their own lives, to contribute actively to their communities, and to promote the development of their countries.
Investing in Education means nourishing the future of a Nation and education technologies are currently important and powerful tools to drive Education Systems into this journey!
TRANSFORMING EDUCATION THROUGH TECHNOLOGY!
TRANSFORMING THE WORLD THROUGH EDUCATION!