Professionals need to be lifelong learners, especially now that there are plenty of new skills and information to learn in the digital era.
Industries are changing at a rapid pace, making it crucial for professionals to continuously learn and adapt for social cohesion, economic prosperity, or even their own fulfillment. Fortunately, the widespread adoption of technology makes it easier for people to learn various skills through online educational programs.
Thanks to technology, lifelong learners can take advantage of certain features that are not available in traditional classroom setups. To illustrate, here's what you need to know about the role of technology in the lifelong learning process:

Fosters autonomy in the learning process
Now that technology has made it possible to have autonomy in classes, people can experience more freedom in their learning processes.
Technology is replacing conservative teaching models and reshaping the learning experience of students and professionals by allowing people to direct themselves as they study a certain skill. Rather than waiting for instruction all the time, learners can now set their own pace through the relaxed setup of online classes and materials. These online classes also have flexible schedules, which makes it easier for professionals to watch video lessons, read the materials, and take their exams whenever they want.
Allows people to personalize their learning experience
Classes are no longer a one-size-fits-all experience now that it's possible to personalize online courses through technology.
It's no secret that people learn information and skills in different ways. The good news is that smart learning environments make it easier for people to be educated on certain topics based on their personal learning styles. Smart devices and apps can make adaptive adjustments through specific programs to help with efficient learning for people with visual, auditory, kinesthetic, and other learning styles. By adjusting to these learning styles, learners can thus absorb information better and improve their skills at a faster rate.
Increases the accessibility of upskilling opportunities
The traditional classroom setup is not accessible to a significant portion of the population.
Fortunately, technology has broken barriers and allows people from remote communities and people with disabilities to learn skills through special devices and online courses. In fact, many educational institutions have adopted technology-based tools, like digital courses and virtual reality training, to make it possible for more people to achieve professional development in today's digital landscape. Through these advanced technologies, people from marginalized communities can learn in-demand skills like digital marketing for example and get a chance to join businesses that are on the lookout for web marketing experts.
Facilitates collaboration and communication between learners
Now that remote and hybrid work setups are here to stay, people must also learn how to communicate and collaborate through technologies.
Even though they're studying different topics, lifelong learners can still pick up soft skills through digital learning tools. In fact, digital technologies like learning management systems, virtual classrooms, and even augmented reality provide new methods for people to communicate and collaborate with fellow lifelong learners. Through their access to these digital technologies, lifelong learners can refine their skills in digital communication and apply these competencies to their hybrid or remote work setup.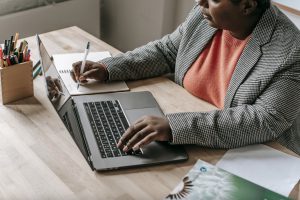 Technology breaks several barriers in education and makes learning more accessible not just for students, but for people in the professional world as well. With technology making lifelong earlier easier and more convenient, one can thus expect that there will be more competent professionals in more industries and fields.
Contribution by: Janice Blake.

Janice Blake has worked as a teacher for almost a decade. Her favorite topics to write about are edtech and new pedagogies in learning.
###
 About jp.ik
Strategic partner of major players in the sector, such as Microsoft and Intel, jp.ik develops innovative solutions in the field of Technologies Applied to Education, always being one step ahead of other global companies. With more than 30 years of experience in the development and distribution of technological solutions, in 2008, jp.ik implemented the world's first national education technology initiative. This initiative was pioneering, as it guaranteed universal access to technological equipment and access to information. So far, jp.ik technological projects have impacted 16 million students and 300,000 teachers in over 70 countries.
Visit https://jpik.com to learn more.